Intervene Earlier with Those at Risk for Addiction
THE PROBLEM
Leaders in the manufacturing industry face an array of human resources challenges, including increased competition to recruit and retain qualified workers.
All of this is exacerbated by the opioid epidemic, which continues to devastate families and communities while contributing to reduced productivity and attrition.
There's an ominous geographic overlap between opioid abuse and U.S. manufacturing-centric regions, according to a MAPI Foundation report. The 201 counties in the U.S. with the highest share of manufacturing employment are also experiencing higher than the national median of drug overdose deaths, Industry Week reports.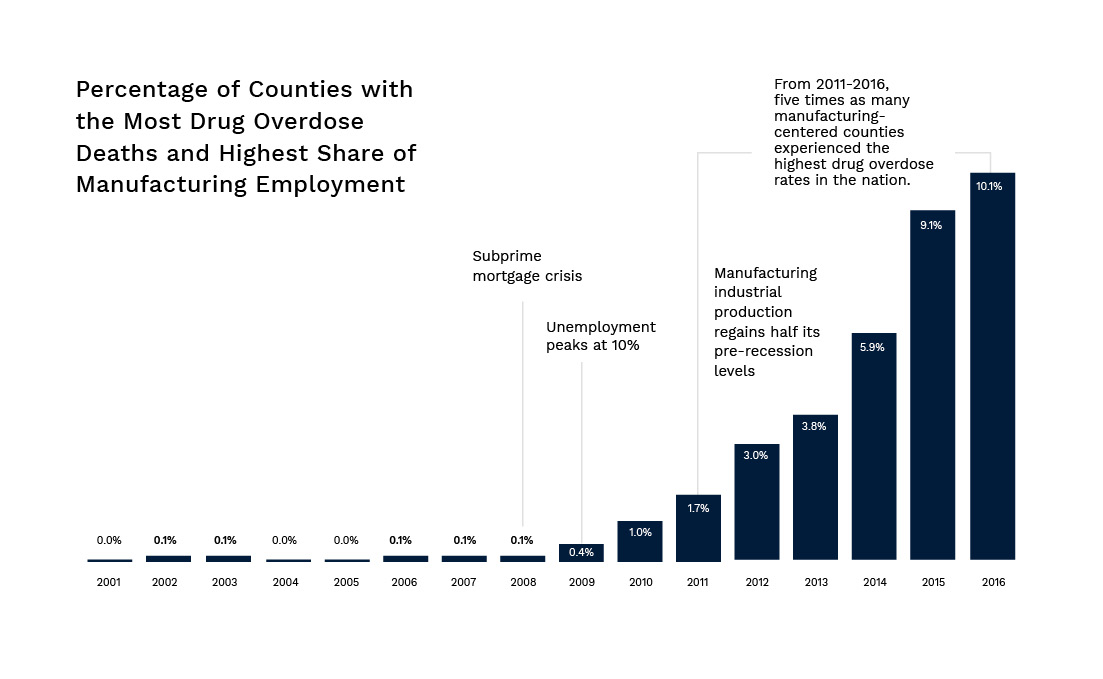 Many employers lack a clear strategy for responding to this challenge. The National Safety Council reported that, while 75% of U.S. employers say their workplaces have been directly impacted by opioid use, only 17% feel well prepared to deal with the issue.
THE SOLUTION
To combat this devastating trend, HR and benefit leaders in the manufacturing industry are leveraging predictive insights to proactively identify the signs of opioid abuse, improve employee well-being, and keep their employees on the job.
Many data vendors rely on analytic tools that identify opioid abuse retroactively, or after someone has engaged in behavior that leads to opioid addiction. But advances in AI and machine learning have made it possible to identify warning signs earlier—enabling interventions before someone becomes addicted.
Predictive analytics gives you proactive insights that allow you to act at the optimal time with targeted outreach strategies to address the factors leading to opioid abuse. You can design preventive mental health and wellness programs around opioid dependence that match the right employee to the right resource at the right time.
Already, many innovative employers are using predictive insights to place dosage limits on opioid prescriptions and expand initiatives such as virtual care and telehealth to address barriers to preventive care.
Once these strategies are implemented, predictive insights also give you real-time updates on how programs are performing, integrating a wide array of success metrics into easy-to-understand dashboards that give you confidence in your benefit decisions and help you communicate your return on investment.
With these earlier interventions and timely program performance evaluations, you can save lives and improve employee well-being.
Want to learn more?
Certilytics is the transformative data and predictive analytics partner for a rapidly growing number of the nation's largest healthcare organizations and employers that are leading the shift to AI-powered, value-focused decision-making.
Our predictive models help employers maximize the impact of benefits programs by:
Uncovering key opportunity areas to quantify the potential impact of new benefit and wellness programs
Matching the right member to the right program at the right time to boost utilization and engagement
Measuring program performance to demonstrate ROI
Check out our case study and see how we helped one Fortune 100 employer maximize benefit program impact and uncover $200PMPY in savings.