'The data comes together to form a holistic story'
This is the second in a series of interviews with the Certilytics employees behind our market-leading healthcare predictive analytics solutions.
In honor of National Nurses Week, we're featuring Lana Davis, Certilytics' Director of Clinical Analytics.
In her two years with the company, Lana has used her background in clinical nursing to help Certilytics achieve important industry certifications and ensure our products are clinically sound.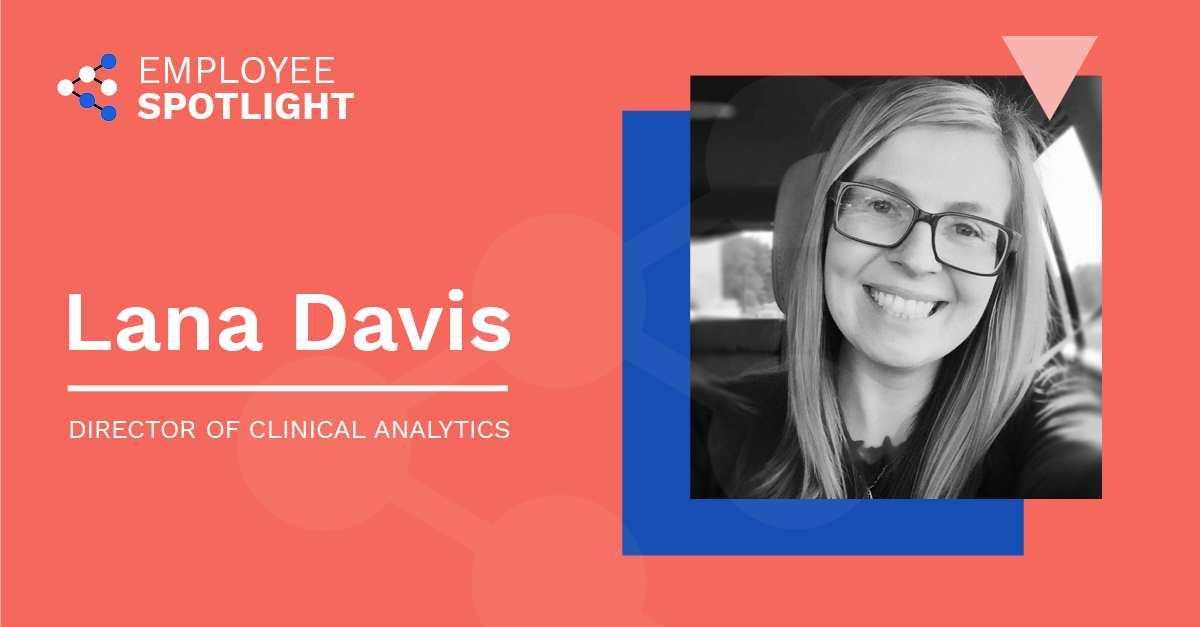 Q: Hi, Lana! How long have you been with Certilytics?
A: I started in February 2019. Time flies when you're having fun!
Q: What does a typical day look like for you?
A: I start out by developing a plan for my day that incorporates meetings, projects, and requests. I usually then work through my email—adding items to my plan for the day, if necessary. The best thing about my job is there's nothing "typical" about any day – some days I can be writing up business requirements for clinical quality measures for our products, while others I'm pulling the data to see what types of social determinants of health are impacting our chronic disease populations. Or I could be working with teams like Data Science to develop the cohorts utilizing ontologies to leverage throughout our Certilytics models.
Q: What led you to want to be a clinical nurse?
A: Two things: becoming a mother and the memories of my grandmother losing her battle to malignant brain cancer. I was an aerospace engineer, but 17 years ago the labor and delivery nurse at my son's birth inspired me to help people in a different way. Although a labor and delivery nurse inspired me, I knew that was not where I wanted to land. I saw my grandmother suffer and ultimately die to a cruel disease, which is what drove me to work on the Pediatric Bone Marrow Transplant unit. I was able to use my clinical skills as a nurse, work on an interdisciplinary team with doctors, pharmacists, etc., as well as care for some of the biggest fighters ever!
Q: How does your nursing experience inform your work as Director of Clinical Analytics?
A: It is the real world application of what I saw both inpatient and outpatient and the application of the data. Understanding the logical pathophysiological processes behind a data point, or how we got to a diagnosis data point in time. That is the beauty of having worked at the bedside, having utilized the EHRs. The data comes together to form a holistic story.
Q: What's your favorite thing about working at Certilytics?
A: There are so many things – the people, the vision, the work. I have had those jobs where Sunday comes and you get that pit-in-your-stomach feeling because the next day means you have to go to work. I never get that feeling here. I love what I do and the impact it makes in people's lives.
Q: What advice would you give to nurses just entering the field?
A: The fantastic part about nursing is how diverse it is, meaning how many different fields of nursing there truly are. You can work in hospitals, for insurance agencies, analytics companies, or even cruise ships. It is about finding something you enjoy and that challenges you! Also, do not be afraid of the data side – get your clinical years in and if you have an interest in healthcare data, it can be rewarding to see interventions that you provided on a patient level be applied at a population level and see the impacts on a public health scale.
Q: What are your hobbies outside of work?
A: I like to read and travel all over the country with my two sons' ice hockey teams. I also collect Scandinavian furniture, artwork, and housewares.
Q: What's something people may not know about you?
A: I have been vegan for over 25 years.
Q: If you could learn to do anything, what would it be?
A: This is probably so trivial, but I wish I knew how to play ice hockey. Both of my sons play, and it looks like so much fun. I am a complete novice. I have only ice-skated a total of one time in my entire life, and the entire time was spent grasping the wall of the rink for dear life. I would love to be able to play in the Parent/Son games at the end of the season versus being on the sideline cheering them on!
Q: What is the significance of National Nurses Week to you?
A: It's a time to celebrate all the accomplishments, hard work, and compassion of nurses. This year has been exceptionally hard on the over 4 million nurses worldwide, and it will remain that way for some time. I hope people remember this week that nurses are medical professionals who play a critical role in healthcare every day, not just through a pandemic. They were here before and will be here after.